What is the last date of the DU MBA Admission?
At the start of the new academic session Delhi University provides all the information regarding the registration or admission on their official website, for the MBA program. Here, you will find the most recent information on when DU admissions for the 2024 batch will open. On the other hand, the admissions date for the subsequent batch will be announced later this year. You can stay informed about all the recent developments in the MBA admission criteria by visiting DU's official website.
DU MBA Admission 2024 Quick Facts:
Before being admitted to DU's MBA program, students must first verify that they meet the eligibility requirements.
Students can choose their preferred specialization in the program based on their interests and fulfillment of the eligibility criteria.
Applications for admission to the MBA specialization in 2024 must meet all eligibility requirements, including having bachelor's degrees from any stream with an overall percentage of at least 50% for general categories and 45% for other categories (SC, ST, OBC, EWS & many more)
MBA admissions registration for 2024 and the associated tuition costs differ depending on the course and specialization.
Students who complete an MBA specialization program can find many career options in the corporate sector.
Students are required to clear the CAT exam to get admission to DU's colleges.
All MBA Popular courses offered by Delhi University
Delhi University offers a huge variety of MBA specializations along with some diploma courses that are mentioned below:
MBA in General
MBA in Finance
MBA in Human Resource Development
MBA in Business Economics
MBA in International Business
Post Graduation Diploma in Management (PGDM)
Post Graduation Diploma in International Marketing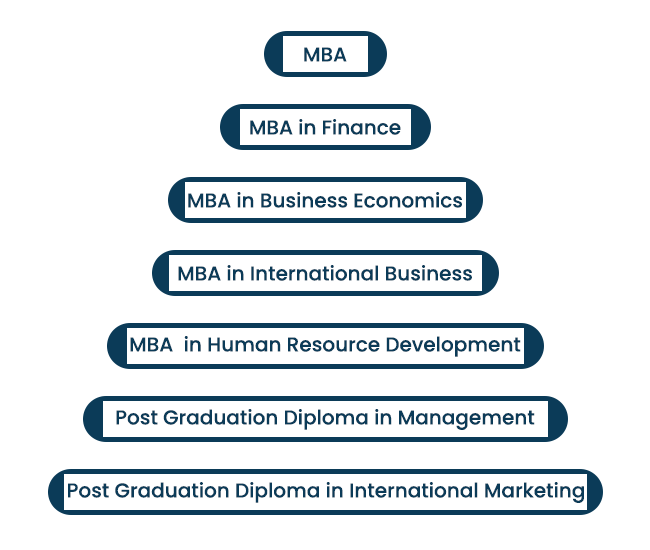 Admission Procedure for MBA Delhi University
Applicants may register for admission to the MBA program via the Faculty of Management Studies (FMS) website, www.fms.edu, by filling out the online registration form and paying the necessary registration fee within the specified time limit.
How to fill out the online registration form:
Go to the FMS website at www.fms.edu.
You will be directed to the online registration page. Enter the requested information accurately.
Check the entered data. No data can be changed once the registration details are verified.
For all applicants—aside from those who fall under the SC, ST, or PWD categories—the application registration fee is Rs. 1000. The registration fee for SC, ST, and PWD applicants is Rs. 350.
Only after your registration details have been verified should you proceed to the payment gateway.
Syllabus of MBA DU
The 2 years of the MBA program are divided into 4 semesters. During the course, candidates are free to choose any elective they wish to take. You can pursue an MBA in several specializations, and it will help you gain in-depth knowledge of the subjects you want to study. An additional component of the MBA curriculum is summer training. The following is a list of general MBA subjects:
1st Year of MBA

Semester-1

Semester-2

MBAFT-6101 Organizational Behaviour

MBAFT-6201 Organization Effectiveness and Change

MBAFT-6102 Data Analysis and Decision Tools

MBAFT-6202 Decision Modeling and Optimization

MBAFT-6103 Managerial Economics

MBAFT-6203 Economic Environment of Business

MBAFT-6104 Accounting for Managers

MBAFT-6204 Corporate Finance

MBAFT-6105 Marketing Management

MBAFT-6205 Management Accounting

MBAFT-6106 Human Resource Management

MBAFT-6206 Production and Operation Management

MBAFT-6107 Business Communication

MBAFT-6207 Marketing Research

MBAFT-6108 Information Technology Management

MBAFT-6208 Management of Information System

2nd Year of MBA

Semester-3

Semester-4

MBAFT-6301 Business Ethics & Sustainability

MBAFT-6401 Legal Environment of Business

MBAFT-6302 Strategic Analysis

MBAFT-6402 Strategic Management

MBAFT-6303 Project Study

MBAFT-6403 Global Business Management
Medium of Instruction of MBA DU
The medium of instruction is English for the MBA program at Delhi University. Study materials like books, assignments, journals, Case studies, and many more are provided in the English language. Even the exam is also held in English but the lectures delivered by faculty members have a mix of Hindi and English languages.
Assignment of MBA DU
The University of Delhi (DU) offers a full-time Master of Business Administration (MBA) program that aims to provide students with a thorough understanding of business administration and management. Additionally, research is regularly emphasized in the University of Delhi's MBA program, which encourages students to investigate and make contributions to the business and management fields through projects and dissertations. Because of its rigorous academic curriculum and emphasis on real-world experience, DU's MBA program is frequently sought after by aspiring business professionals looking for a reliable and solid foundation in business administration.
Term-End Examination of MBA DU
A minimum of 40% in each theory paper's semester-end exam and 40% in each paper's internal assessment are required for each semester's examination to be passed with a minimum of 45% overall.
Both the internal assessment and the final semester examination will be given numerical scores for each paper. The internal assessment score will be determined by averaging the numerical results of the different components, including quizzes, assignments, projects, participation in class, midterm exams, etc. The sum of the marks from the end-of-semester exam and the internal assessment determines the final score for a paper.
Cutoffs
Here are the cutoff percentile for the MBA(General) at Delhi University for the past 3 years:
| | | | |
| --- | --- | --- | --- |
| Sectional percentile | 2020 | 2021 | 2022 |
| Overall | 98 | 98 | 98 |
| Quants | 50 | 50 | 50 |
| VA-RC | 50 | 50 | 50 |
| DI-LR | 50 | 50 | 50 |
Reservation & Relaxation:
Delhi University has a total of 1,563 seats across their various colleges for the course of MBA degree. Candidates are granted reservations or relaxations per the policies set forth by the University of Delhi, which are subject to time-to-time revision. The MBA Full Time reservations follow the current guidelines.
| | |
| --- | --- |
| Sanctioned seats - 251: | Supernumerary seats: |
| Unreserved / General (Gen) - 101 | Person with Disability (PWD) - 12, |
| Scheduled Castes (SC) - 37, | Children and Widows (CW) - 12, |
| Scheduled Tribes (ST)- 19, | Foreign Students (FS) - 12, |
| Other Backward Class (OBC) - 69, | Ward Quota Teaching (WT) - 6, |
| Economically Weaker Section (EWS) - 25 | Ward Quota Non-Teaching (WNT) - 6 |
Facilities
Technology Resources:
Both the North and South campuses of DU are equipped with technological resources and amenities offered by its Faculty of Management Studies. With full Wi-Fi access available on both of FMS's campuses, students can access live lectures, online journals, and the Internet. Students at FMS have access to a dedicated computer center to access online journals, stay current on current events, and help themselves with their studies. Many software systems are installed in the center. Students can access games on investment analysis and portfolio management as well as business simulation. Additionally, the students have access to a variety of corporate databases, including PROWESS from CMIE. Additionally, FMS has a cutting-edge video conferencing system.
Library:
A library with air conditioning is available at FMS North Campus, with over 40,000 books and journals (60 foreign journals among them). Additionally, students have access to the Delhi University Library System, which houses over 8,000 journals (including online journals) and over 600,000 books (via the Online Public Access Catalogue). Furthermore, students can access 27 online databases, such as UGC-InfoNet e-Shodh Sindhu, EBSCO Publishing, and ABI/INFORM.
The University of Delhi - South Campus Library and the S.P. Jain Advanced Management Research Centre, which together contain more than 1,50,000 books and bound volumes of periodicals, are also available to students at the South Campus. At the South Campus, there is also access to a variety of online journals. The adjacent UDSC Library also has a dedicated Internet access center.
Scholarship
Numerous scholarships are available to deserving students at Delhi University who are enrolled in an MBA program or any other postgraduate course of study. To be considered for the scholarship, applicants must attest that they fulfill the prerequisites. The details of the DU scholarship are as follows:
| | |
| --- | --- |
| Scholarship Name | Scholarship Amount |
| Post-Graduate Scholarship (All India Scheme) | The annual award will be INR 400 per month, tenable for two or three years, depending on the circumstances. |
| His Holiness The Pope Scholarship | Each year, poor and needy students will typically receive an award of INR 150 per month. |
Alternatives of DU MBA Programs
Online education is a well-liked substitute for Delhi University's conventional on-campus programs. Online courses can be substituted and are offered by numerous reliable platforms and institutions worldwide. These online platforms offer a wide range of courses and degrees in fields such as business administration, technology, arts, and sciences, among others. They provide schedule flexibility so that students can learn from anywhere at any time and at their own pace.
Access to a variety of resources, interactive multimedia, and discussion boards are frequently included in the online education model. Online learning institutions prioritize upholding rigorous academic standards while meeting the needs of a diverse and international student body. These substitutes can provide the convenience of remote learning with an education of a quality that is online with on-campus programs.
| | | |
| --- | --- | --- |
| University Name | Location | Accreditations |
| DU SOL | Delhi | UGC-DEB, NAAC A+, NIRF |
| IGNOU | All India | UGC-DEB, NAAC A+, NIRF, AICTE |
| Manav Rachna University | Haryana | UGC-DEB, NAAC A++, WES |
| CCE UPES Distance Learning | Dehradun | UGC-DEB, NAAC A, NIRF |
| DY Patil University | Pune | UGC-DEB, AICTE, AIU, ACU, ISO, WES |
| Amity University | Noida (Main Branch) | UGC, NAAC, AICTE, AIU, ACU |
| Lovely Professional University | Phagwara, Punjab | UGC-DEB, AICTE, NIRF, WES |
DU SOL Sample Certificate
Earn a UGC & AICTE, NAAC A++ -recognised degree from DU SOL
Learn from the best faculty and industry experts.
Become a part of the DU SOL Alumni network.
Build job-ready skills to get ready for the workforce.
DU MBA Selection Criteria 2024
The following standards and weight system will be used to determine which candidates from the list of shortlisted candidates for the interview process are admitted to the full-time MBA program:
50% of the weighted CAT 2022 score
Class X results: 10% (60% and above but less than 75%: 5%, 75% and above: 10%).
Class XII marks 10% (60% and above but less than 75%: 5%, 75%, and above 10%).
Statement of Purpose Discussion - 10%
Temporarily – 5%
Individual Interview: 15%
DU SOL Admissions FAQ
Respond DU's MBA program normally lasts 2 years, divided up into 4 semesters.
The MBA program at DU offers a number of specializations, including human resource management, operations management, marketing, finance, and more.
Candidates must have a bachelor's degree from an authorized university in any field. They must also be qualified to take the entrance exam, like the CAT, that Delhi University accepts.
The curriculum incorporates elective courses with foundational business subjects. It allows students to choose specialized courses that are in the field of their interests and cover topics like accounting, economics, strategy, and leadership.
Candidates must sign up for and attempt the necessary entrance exams. They can use the university's admission portal to apply to Delhi University's MBA program after passing the exam.
A specialized placement cell at DU helps students find internships and full-time positions with different businesses. The program offers a wealth of industry connections and networking opportunities.