Does DU SOL Offer Online Diploma Programs?
Only conventional UG and PG degree programs of B.Com, BBA, BA (Hons.), BA (Prog), MBA, M.Com, and MA are offered at the School of Open Learning of Delhi University (DU SOL).
Currently, online diploma courses have not been introduced by DU SOL in any specializations but several other government-approved universities offer these online diplomas. The diploma courses offered by UGC-approved universities are valid and can be opted for a variety of career scopes in the related field.
Necessary details relevant to online diplomas and the options of universities offering them can be accessed by filling up the form available here.
Online Diploma Specialization Courses
The specializations under the online diploma courses include:
Online Diploma in HR Management
Online Diploma in Internet of Things
Online Diploma in Cyber Threats and Security
Online Diploma in AI And Machine Learning
Online Diploma in Marketing Management
Online Diploma in Operations Management
Online Diploma in Supply Chain Management
Online Diploma in Wealth Management
Online Diploma in International Trade Management
Online Diploma in Retail Management
Online Diploma in Computer Application
Online Diploma in Library and Information Science
Online Diploma in Web and Application Development
Online Diploma in Financial Management
Online Diploma in Banking & Finance Management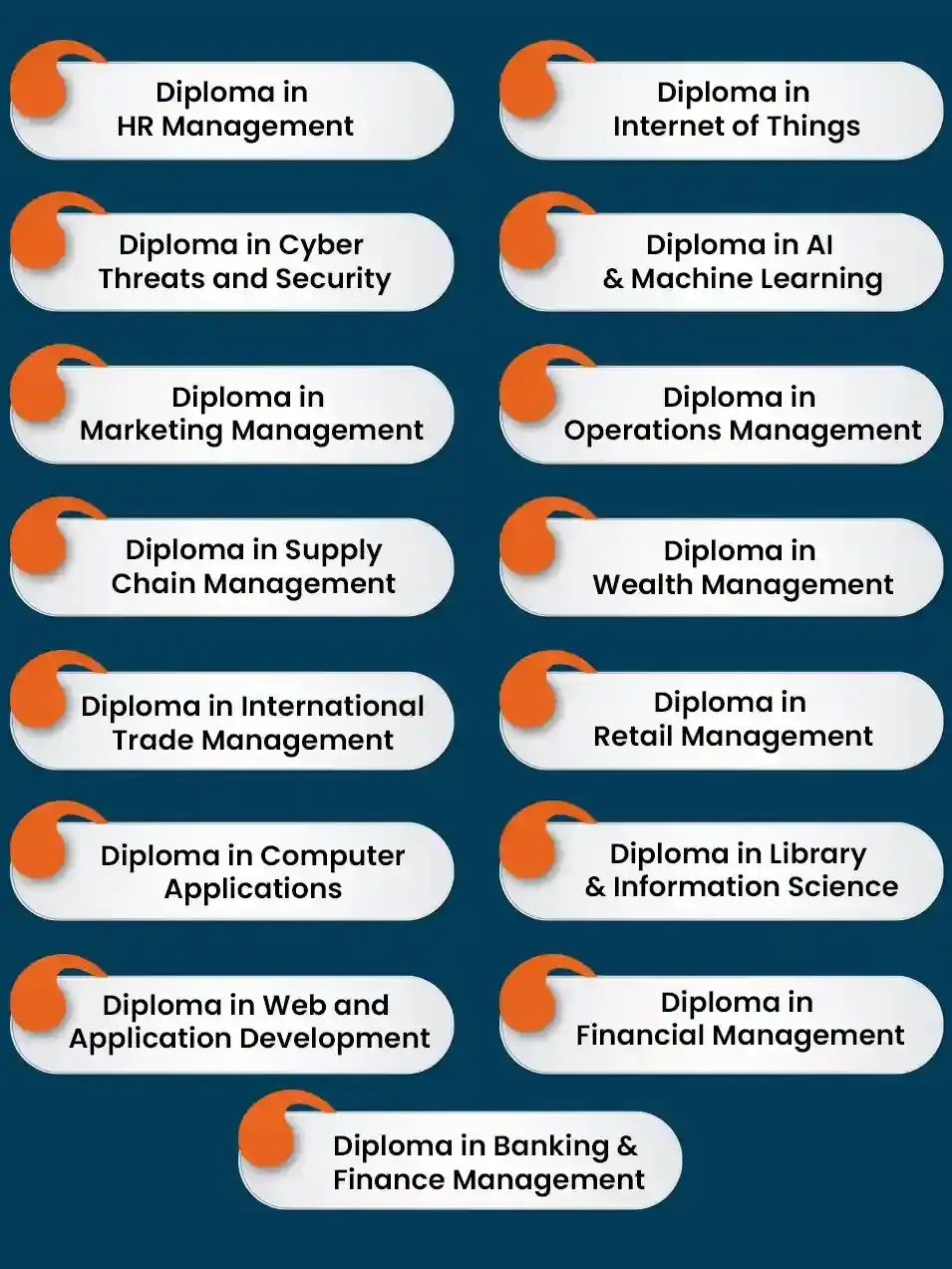 Online Diploma Programs in India | Modes of Operations
An efficient and highly accessible online diploma course develops expertise in the specialization subject that helps individuals to get a higher-paying job in the related industry.
Medium of Instruction
The language used for communication in this course is English. All the information on the university website and other academic tasks conducted during the session are in the same language.
Learning Management System (LMS)
The interactive sessions including online classes, doubt-solving lectures, conferences, and webinars occur through a specific portal, i.e., LMS. Digitalized study materials and recorded lectures are easily accessible through the LMS portal.
Semester Exams
During the course, candidates need to appear for online exams that follow the semester mode pattern. Online exams are proctored and can be attempted from anywhere.
Final Evaluation
After term-end exams, final results are declared considering the assessments of the learner in the academic tasks given by teachers during the session. Minimum passing marks (as set by the university) must be scored by the candidates to complete the diploma program.
DU SOL Sample Certificate
Earn a UGC & AICTE, NAAC A++ -recognised degree from DU SOL
Learn from the best faculty and industry experts.
Become a part of the DU SOL Alumni network.
Build job-ready skills to get ready for the workforce.
Who is Eligible for School of Open Learning Admissions?
UG Courses
10+2 from a recognized Education Board
A minimum of 45-50% marks in the qualifying exam.
Basic Knowledge of the English language.
PG Courses
Graduation from a recognized university.
At least 45-50% marks in the qualifying exam.
Must have studied the English language at 10+2 or graduation level.
Note: For some courses, the university might conduct an entrance exam & the eligibility will also depend on the scores of that exam.
DU SOL Admissions FAQ
No, DU SOL does not provide any online diploma courses as of now.
The mode of fee payment is completely university dependent for these online courses. However, most universities have introduced a "No Cost EMI" option for their course fees.
Yes, online diploma courses in specific specializations as listed on this page are approved by UGC-DEB and hence are treated as regular diploma courses by employers.
The duration of online diploma courses depends on the university but in most universities, the period allotted to complete the course is 1-2 years.