Does DU SOL offer an Online MA in Punjabi Program?
Unfortunately, the Delhi University School of Open Learning (DU SOL) does not currently offer an online MA in Punjabi program. Nevertheless, other colleges and institutes, such as LPU University Online, offer this curriculum online. LPU University Online is the finest option if you want to pursue an online MA in Punjabi. The online MA in Punjabi program at LPU is periodically revised to ensure that students have the most up-to-date information and abilities in Punjabi studies. The program costs between INR 26,400 to INR 32,900 every semester.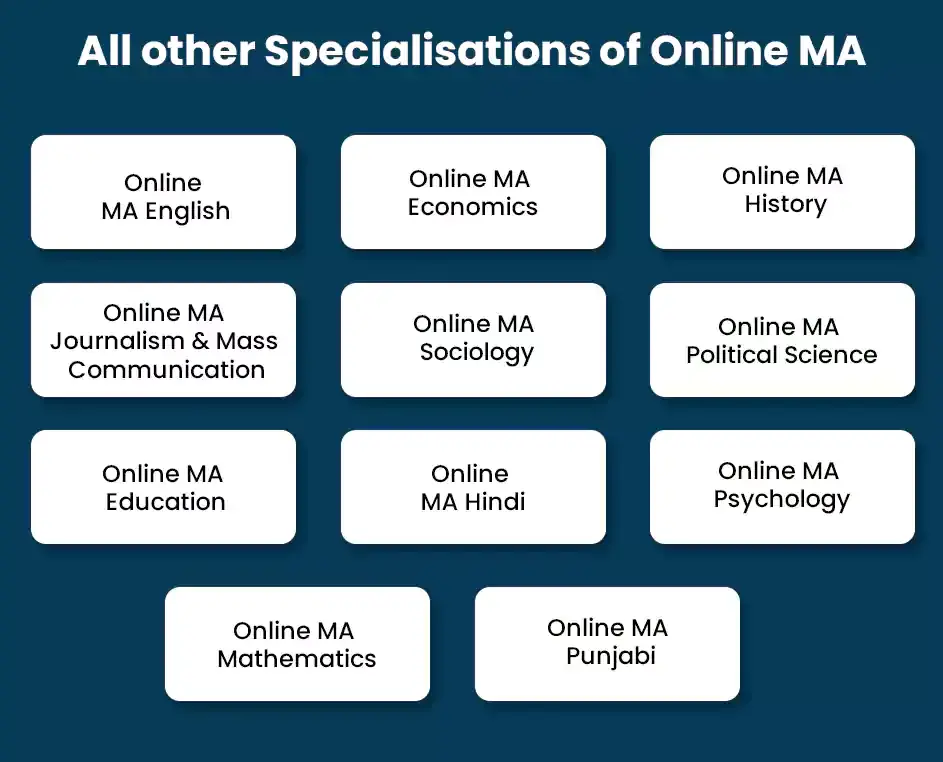 Online MA in Punjabi in India | Modes of Operations
An MA in PUNJABI online offers many modes of operation to fulfil the various needs of students. Among the operational methods are:
Term-End Exams
Term-end exams are administered at nearly every university offering an online Punjabi MA. The program is structured into four semesters, each concluding with a term-end exam.
Mode of Delivery
Online MA in Punjabi programs is given using virtual learning platforms, which provide students with flexibility and convenience. The curriculum is typically offered via online lectures, readings, assignments, and exams. In addition, students may access course materials and lessons from anywhere with an internet connection, making it a convenient choice for individuals unable to attend regular classroom sessions.
Grading Criteria
The online MA in Punjabi program's grading criteria is based on regular internal assessments and external examinations. Internal evaluations account for 40% of the overall grades, while external exams after each semester account for 60%.
Career Scope
An online MA in Punjabi can lead to various professional prospects in industries such as education, publishing, media, translation, government, and more. Graduates can get work as Punjabi language instructors, content writers, journalists, translators, editors, or researchers, among other things.
DU SOL Sample Certificate
Earn a UGC & AICTE, NAAC A++ -recognised degree from DU SOL
Learn from the best faculty and industry experts.
Become a part of the DU SOL Alumni network.
Build job-ready skills to get ready for the workforce.
Who is Eligible for DU - School of Open Learning Admissions?
UG Courses
10+2 from a recognized Education Board

A minimum of 45-50% marks in the qualifying exam.

Basic Knowledge of the English language.
PG Courses
Graduation from a recognized university.

At least 45-50% marks in the qualifying exam.

Must have studied the English language at 10+2 or graduation level.
Note: For some courses, the university might conduct an entrance exam & the eligibility will also depend on the scores of that exam.
DU SOL Admissions FAQ
The duration of LPU's online MA in Punjabi program is two years.
The eligibility criteria for admission to the online MA in Punjabi program is a Bachelor's degree in any discipline with at least 50% marks from a recognized university.
The fee structure for LPU's online MA in Punjabi program ranges from INR 14,400 to INR 28,800 per semester, depending on the student's category.
Delhi University's School of Open Learning (SOL) offers an online MA in Punjabi program. However, you can choose the best alternative by clicking on this link.
After completing LPU's online MA in Punjabi program, you can pursue careers in academics, media, journalism, publishing, translation, and cultural preservation. The program also provides a solid foundation for further research and doctoral studies.